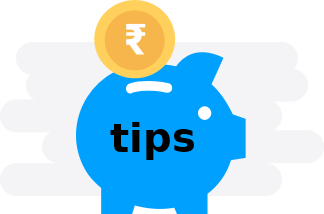 Tips for investing in SIP
SIP or Systematic investment plan is the investment approach offered by mutual fund companies in India under which an investor invests a pre-determined amount periodically instead of lump sum to minimize the risk in volatile market.
Here's few tips that you must follow to get maximum return from SIP investment.
Have long term goal
SIP works best in volatile market by taking the advantage of rupee cost averaging. In the short term the market may not experience all cycles. You might end up buying more units in mutual fund when the market is all time high. Exiting from SIP in this case will not yield good return. So, it's always better to give enough time for your SIP plan, for instance, 10 to 15 years at least.
Diversify
Try to diversify you investment portfolio. Instead of putting your all money in one mutual fund split it into other funds. If possible invest in different sectors. For instance, if an entire sector under-performs, you can still count on others. So, it's always good to have a diversified strategy.
Do not exit in downturn
If you are planning to stop your SIP investment then it's always good to exit when the market is relatively higher. Before stopping the SIP look for perfect timing. You will lose out a chance to get good return on you investment if you stop your SIP midway when the market tanks.
Choose fund on the basis of long term performance
When you plan to choose a mutual fund then it's past performance is one of the key criteria that you should look for, which has to be studied over a long period of time. It's difficult to identify a mutual fund with only one year of past performance. A good performing mutual fund in the last year might have long history of under-performance. So, it's better to identify a fund on the basis of at least 4 to 5 years of its performance. This much time-frame covers every cycle of the market and will provide you a clear picture about the fund's ability to perform in the difficult market situation.
Review your funds
You should review your funds once in at least 6 months. This will provide you a clear picture about which funds are performing or not. A continuous dip in performance indicates that you might need to get out of that scheme and invest in some other mutual fund or in a different sector for a while.
Read Further : Benefits of SIP investment
Calculate and Plan your SIP return with SIP Calculator